For you Profitable Practices is...


ONLY

$99

!
GET PROFITABLE PRACTICES ON FIRE!
$99
10 Video & Audio Modules
---
Accountability Worksheets
---
Members Online Community
---
Monthly Live Q&A
---
BONUS VIDEOS
Learn more about Profitable Practices!
10 Practice growing video and audio modules
I've created these modules and materials to help grow your practice. If you are not satisfied with your purchase for any reason, email us at profitable@drchloe.com within 7 days of your purchase date. Please include the subject line - "refund request" and include the email address you used to make your purchase.
What you will learn:
The #1 language mistake you need to stop making if you want to attract high-functioning clients.
What all ultra-successful Private Practice Owners do (and why strolling through an art museum will help grow your business).
A quick and easy productivity tip that works magic for my business.
The absolutely necessary skill that is NOT taught in Grad School... and how to get started, easily (Hint: it's not marketing).
and more!
What you will learn:
How your furniture arrangement may be scaring your dream clients away… and how to fix it today.
The quick, cheap and easy purchases that give your office an air of comfort and professionalism (most of which can be found on Amazon, or at Target-- for cheap).
How to strategically position your diplomas and artwork (and what types of art to throw in the trash!)
Tips for looking like a Seasoned Professional on video calls (...and what I do before every video call)
and more!
What you will learn:
How to refine your booking process to near-perfection. This way, you can capture high-functioning clients who are frankly too busy to deal with a system that doesn't make it easy for them.
How to put systems in place so you can focus on what you do best— working with clients (NOT billing and paperwork).
What I learned from being treated at an up-scale dermatologist...which now saves me and my clients from needless headaches (and frees up a bunch of time).
My high success-rate phone call strategy for booking high-functioning clients (because they have to be approached in a certain way).
and more!
What you will learn:
The customer service mentality-shift you have to undergo if you want to book and retain high-functioning clients (because they have different needs than your ordinary clients).
What you absolutely must incorporate into your system if you don't want your high-functioning clients to eventually abandon you.
My personal strategy for dealing with late cancellations (that is reasonable and fair for both me and the client).
Relationship-nurturing tips that make your clients -- and referral sources -- want to keep working with you for the long-term.
and more!
What you will learn:
Lessons from dealing with upset clients and tricky situations, including:
Clients who were mistakenly double-booked (and understandably not happy about it).
Clients who had a hard time "opening-up" (but nonetheless wanted to be there).
An enraged client who, after refusing to pay a late fee, threatened to slander me on social media.
Clients who learned their financial contribution will be increased because their insurance wouldn't pay as much as we originally estimated.
and more stories and lessons learned on the job.
What you will learn:
Why conversing with your clients too much is harmful for you and your business (it might even make your patients leave you!).
A valuable lesson from my cleaning staffs (that surprisingly made me a better therapist).
Why you should travel at least once a year (and no...it's NOT to avoid burn-out).
The professions that are proven networking-goldmines. (If you want high quality referrals, look here!)
and more!
What you will learn:
How to recycle old content, so you multiply your net-gain from each post you write.
The #1 location to online to find and connect with high-functioning clients.
My recommended social media tools to help you expand your outreach as fast — and as easily — as possible.
My step-by-step process for connecting with the media (bonus: the pitch I used to book an appearance on my local fox news station).
and more!
What you will learn:
The best skills to work on, if you want to make more money with your practice.
The top consultants you should get in contact with if you want to grow your practice immediately.
Low-budget strategies for learning (if consultants are out-of-the-budget).
and more!
What you will learn:
5 different types of groups and organizations that are teeming with good potential clients.
What you should do if you're at a loss for how to productively interact with your network (so you're not a sitting duck).
How to casually present yourself as competent and professional (without coming across as stuck-up)… so people are more likely to recommend your services.
Tips for people who don't like to small talk.
and more!
What you will learn:
Common clothing-mistakes that you should NOT make if you want to attract and retain high-functioning clients.
A step-by-step guide to adopt a professional style of dress… even if you are on a budget dollars and feel clueless.
How your speech patterns may be attracting (or repelling) the clients you want… and what to do about it.
The unexpected trick that I pull on my receptionists (and you should too!)
and more!
Join us in the group forum where you can ask questions or share comments with fellow members. It's a great place to ask any questions or start discussions about the material in the video course, or growing your practice in general. I'll be chiming in as well on started topics so post away!
Regular monthly group Q&A sessions with me. During these live events I'll answer questions to help you overcome roadblocks you face with growing your practice. These Q&A events not only answer questions you have, but answer questions you didn't even know you had yet.
Each of the modules comes equipped with a worksheet from the accountability planner to make sure you stay on target.
Accountability is the key to any successful practice.  
This is a great question, and I totally understand your frustrations.
Early on, I also surfed through a sea of information that seemed to be contradictory, confusing, or completely useless... and much of it was created by people who didn't even seem to actually have a very successful practice themselves.
 As a former college professor, I pride myself on being able to outline a comprehensive course that includes all of the relevant components needed to ensure a complete package; while also making sure the material is entertaining and engaging.  I also understand the importance of offering homework to give students the opportunity to apply what they're learning, and make sure they aren't missing or forgetting important pieces of the material covered.  As a successful therapist, a successful business person, and a doctoral level psychologist with credible experience in academia, you can trust me to provide you with a helpful, informative, challenging-yet-entertaining course where you can just "follow the steps" and know that you'll be getting the information you need to start or enhance your private pay therapy practice.
Congratulations on being here and thinking about private practice even while you're still in school!  That's when I started thinking about my private pay therapy practice, too.  One of the biggest fears that students and new graduates have is how to get private pay therapy clients.   Many professors almost exacerbate this fear because they aren't experts in practice building themselves. The good news is that there are definitely things you can do NOW to start preparing.  You can design your ads, website, business cards, etc now (you can always change them later- still just a good idea to start some rough drafts!); plus you can start making sure your LinkedIn contacts are constantly updated.  You can also start social media accounts and a monthly newsletter so that you'll have a ready-made following (even if it's small, it's better than nothing!) for when you start your practice.  I kept a file of ideas for my practice during graduate school so that I had a running start when the time came to launch my practice. Watching my videos on how to start or enhance a private therapy practice is a great way to get yourself pointed in the right direction and stay focused on your long term goal of having a successful private practice!
Yes, possibly!  I'm always glad to meet motivated, interested, intelligent therapists who are interested in private practice success.  Complete the application form here to get started!
The real question is whether you can afford NOT knowing how to get clients and make your practice run beautifully. If you were to learn how to get private pay therapy clients– or even learn something that helped you to get just ONE private pay therapy client– from the skills, ideas, and encouragement in these videos, you would EASILY recoup your investment.  The real question is, can you afford NOT to give yourself the advantages of Profitable Practices?  The good news is that ProfitablePractices is actually EXTREMELY affordable compared to the cost of graduate school, and of course compared to the cost of losing potential clients.  Moreover, the fee is considered a business expense by the IRS, so you don't even have to pay taxes on this money!  Considering that most people pay 33% in taxes, this means that your actual investment would be significantly LESS than $200. To delve deeper into the question of whether to invest in yourself and your practice, please watch the video on this page titled "Should I Spend the Money?" Or, just sign up and get moving now!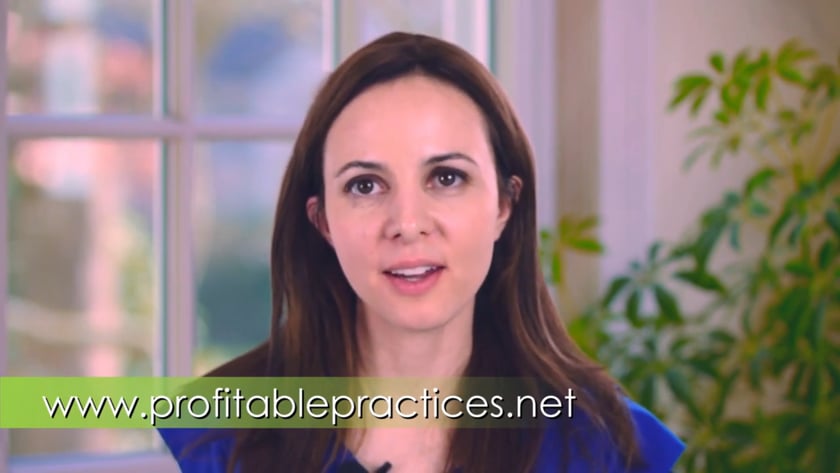 Yes!  You can register for an affiliate account and start earning extra income today.
Yes.  The fee for private tutoring is $1k per 60 minutes.  During this time, you're free to ask about anything you want, including questions about exactly who I use for certain services such as web design, advertising, billing, legal advice, employee recruiting, etc.  You're also free to ask me to role-play with you exactly how I manage free 15-minute calls and segue them into paid bookings if the client seems like a good fit for my private pay therapy practice; personally review your advertising profile or website; brainstorm ideas on how you personally could leverage your local network for success, get featured in the media, or whatever else you wish to discuss!  Please note that you must apply for private tutoring.  To apply, please click here.   Don't worry if the fee for private tutoring is unaffordable, since you can get access to my entire video course with optional homework worksheets to help you stay on track, the alumni listserv where I often answer questions for free, and plenty of other goodies for a much lower fee.  Private tutoring is available, but it is not necessary– I encourage you to try the more affordable video course with alumni listserv access first, but of course the choice is yours!